Introductio

n
This document is intended to clarify roles and responsibilities for our support services using the 'RACI' model (Responsible, Accountable, Consulted, and Informed). We endeavour to provide the highest level of support to our clients and partners, leveraging the very best technology available.
This document will help inform what is within each scope of support for each of the business areas, both internally and externally.
What does RACI mean?
Responsible: a manager or team member who is directly responsible for successfully completing a project task.
Accountable: the person with final authority over the successful completion of the specific task or deliverable.
Consulted: someone with unique insights the team will consult.
Informed: a client or executive who isn't directly involved, but you should keep up to speed.
Support Chart
The chart below visually shows the amount of support that a client can provide before escalating the request to our support teams.
As a client with access to the datajar.mobi Simplified Management dashboard, clients will be able to perform the following tasks:
View and export reports

Configure LaunchPads (Pre Stage assignments)

Perform other individual device configuration changes - for more information, please refer to the following articles in our support portal:
Please refer to the chart below for support beyond this, which details which tasks are covered by dataJAR and how each support tier is involved. This allows higher tiers with extensive levels of knowledge and experience to support lower tiers where necessary to ensure that the best possible service is delivered.
Client communications to dataJAR should always come from the Client Helpdesk to ensure that support given is delivered consistently. The Client Helpdesk relays instructions/information to end-users and acts as a communication channel between them and dataJAR.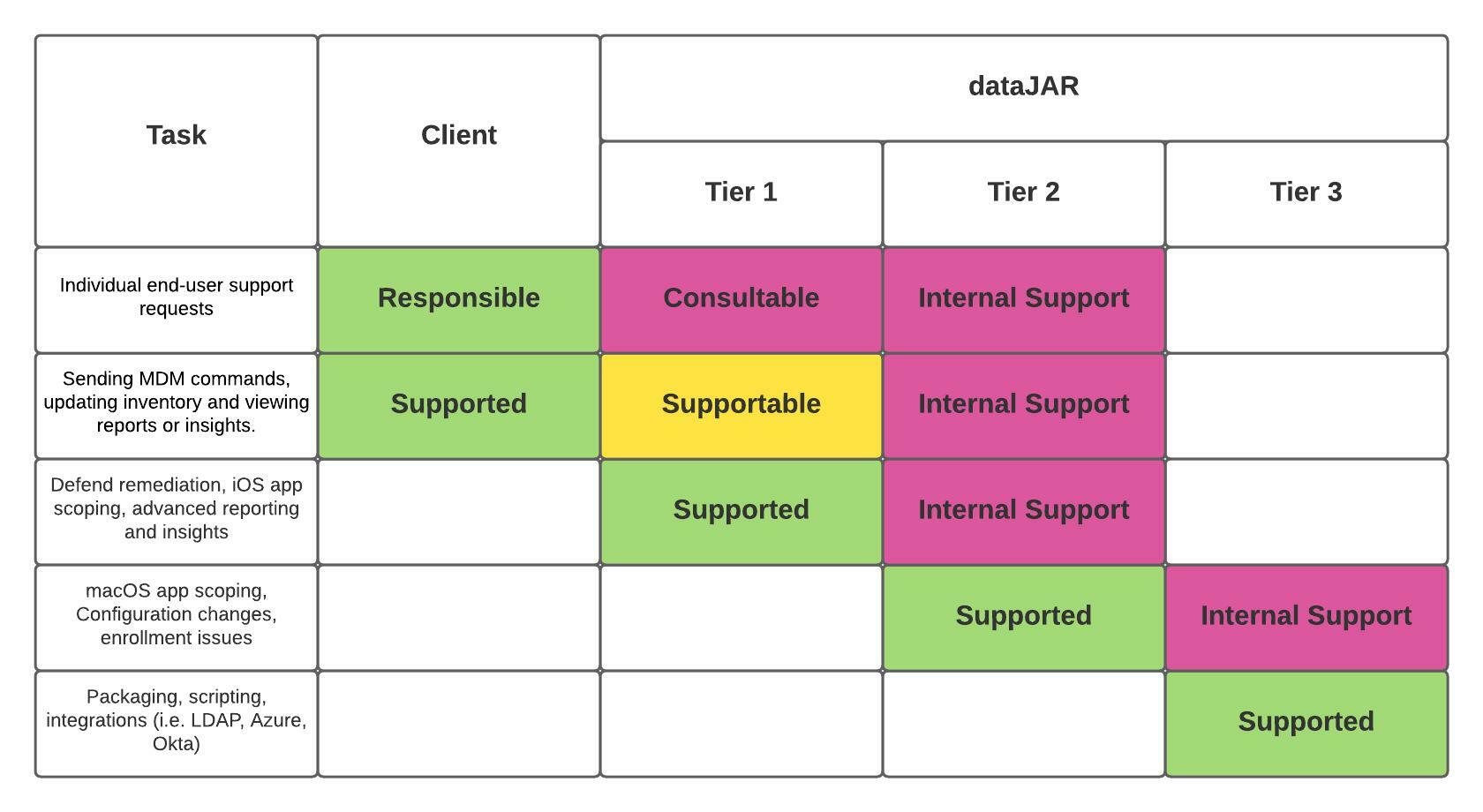 Need further support?
Automate. Simplify. Succeed. If you still require assistance with us or have any further questions, please raise a ticket with our support team.
Alternatively, please see our frequently updated knowledge base articles for reference.