Introduction
This document is intended for all users using our datajar.mobi Fully Managed or Hybrid service running macOS 11 and higher, and provides information on our Support Application.
About the Support Application
Our Support Application is designed to provide end-users using our services the ability to interact quickly with common tasks, which are:
Computer Name
macOS Version
Last Reboot
Storage Utilisation
Self Service
App Updates (Auto-Update)
Help Centre
Service Status
Remote Support
How to access the Support Application
The Support Application can be accessed by clicking the ♡ icon in the menu bar. This ensures that it can be easily accessed at any time, even if you are already using any other application. When clicked, you will be presented with the following screen (shown below):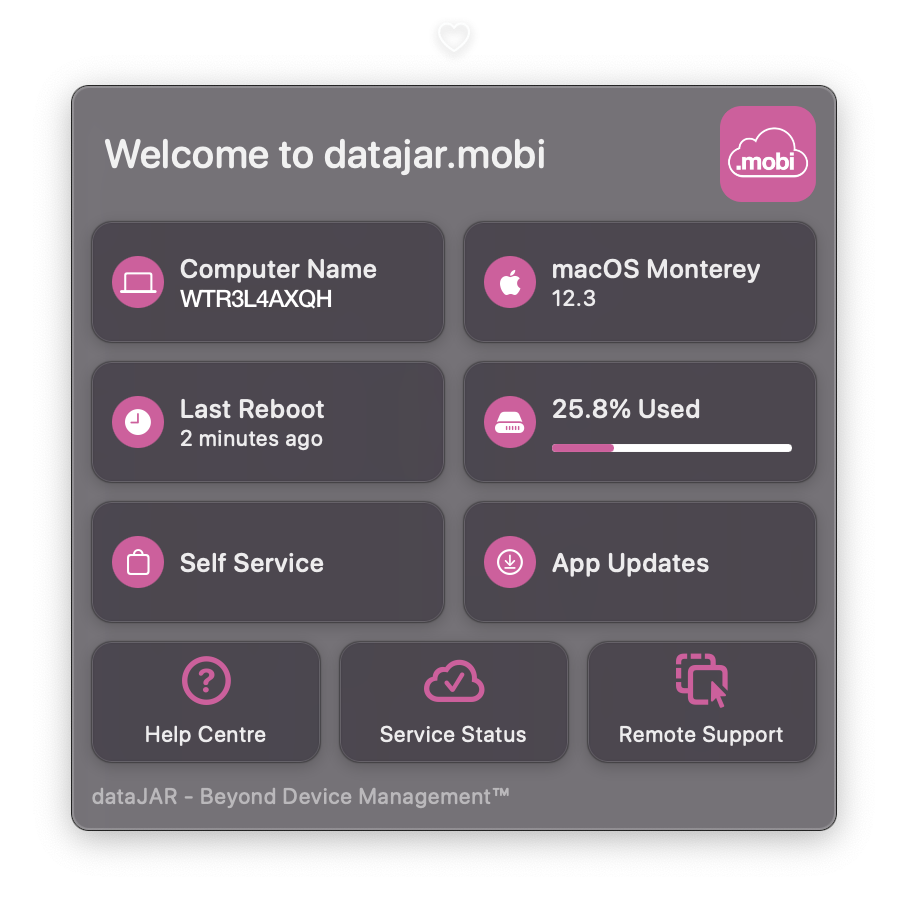 Alerting
The Support Application alerts you when the following conditions occur on your Mac, and these alerts are represented by an orange indicator on the ♡ icon in your menu bar:
macOS Version - A new software update is available for your Mac. Selecting the macOS Version button will direct you to System Preferences where you can follow instructions to update your Mac. It is important you always install the latest available version of macOS for your security.
Last Reboot

- If you have not rebooted your Mac in over 7 days, an '!' mark will appear on the Last Reboot button. It is important that you periodically restart your Mac to ensure that it runs smoothly.

Storage Utilisation

- It is important that you ensure your local storage is well-managed, as this will ensure you are able to apply security and application updates. If your Mac storage is utilising more than 80% of the built-in storage, you will be able to select the 'Drive' icon within the Support Application which, when selected, will launch the file manager where you can optimise your data.
Need further support?
If you still require assistance with us or have any further questions, please raise a ticket with our support team.
Alternatively, please see our frequently updated knowledge base articles for reference.