This document details the process for enrolling iOS devices into your datajar.mobi instance via Automatic Device Enrolment (ADE). This will be via one of the Apple Business Manager (ABM) or Apple School Manager (ASM) portals.
Please Note: This document has been created as a generic guide for the majority of our customers. Please consult any instructions from the dataJAR team regarding your specific setup.
Pre-enrolment steps
Prior to enrolment, there are some initial one-off steps. Once these have been performed for a specific device, they do not need to be performed again unless you are changing the device's usage (e.g. moving it from 1:1 to a shared device, or from a shared device to 1:1).
1) Log into Apple Business Manager or Apple School Manager
2) Use the "Device Assignments" section and the device's serial number to assign to the device/s to the datajar.mobi MDM server. It is possible to assign multiple devices at the same time, separated by a comma or a new line.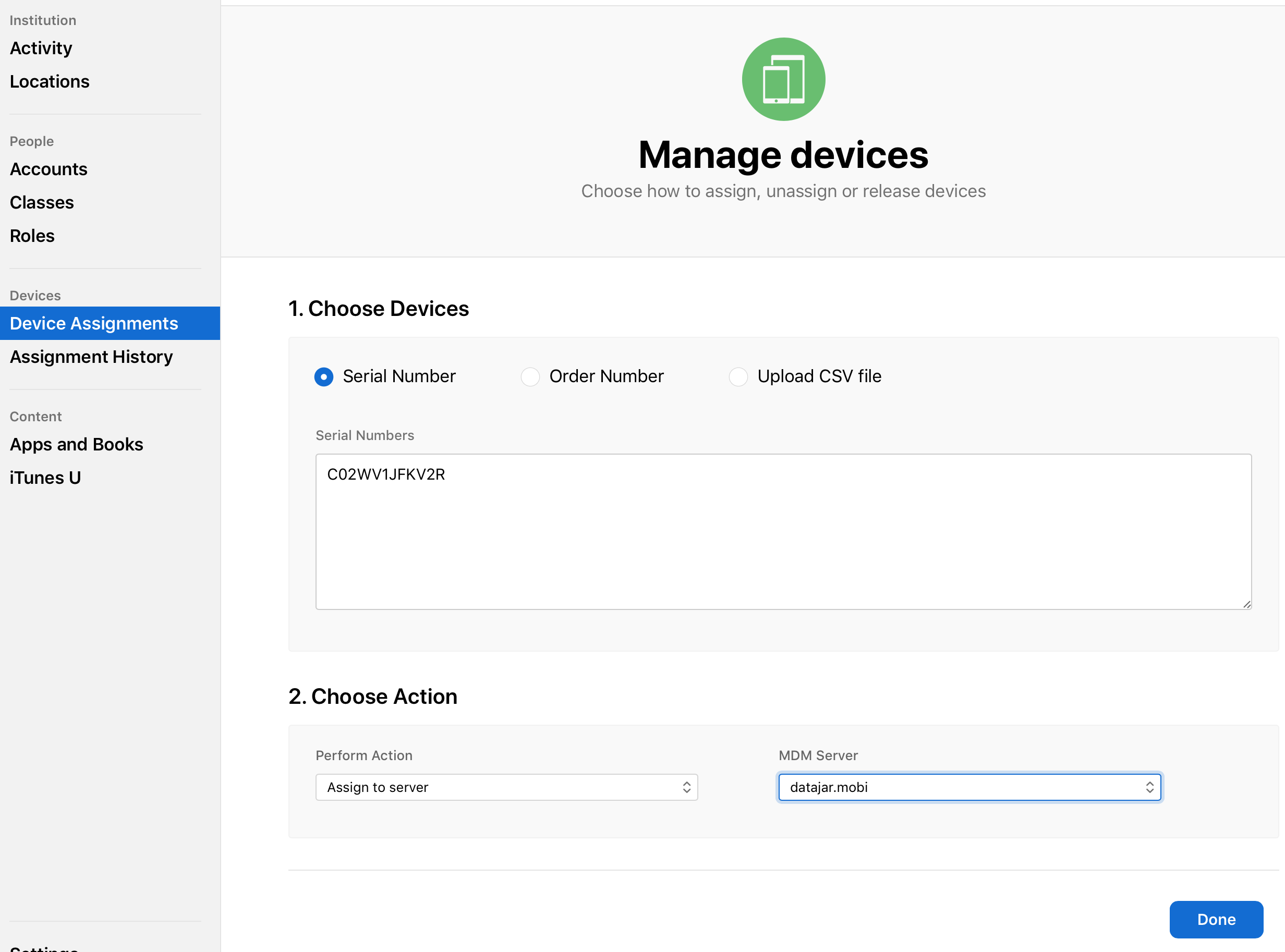 3) Log a ticket with dataJAR Support with the serial number/s of these devices and if these should be 1:1 devices, or shared devices. Tickets can be logged via the portal (https://support.datajar.co.uk/hc/en-us/requests/new), via email (support@datajar.co.uk) or via our Management App (https://support.datajar.co.uk/hc/en-us/articles/360003535773)
4) dataJAR support will assign these in your datajar.mobi instance. This will take 10-15 minutes to sync back to Apple once complete.
5) The device should now be ready to be wiped and enrolled into datajar.mobi
Enrolment steps
The above process should only be required once per device. Once complete, you should be able to follow the below steps.
1) Connect the device to a charging source. You will also benefit by using a network that has an Apple Caching server. If you are interested in this, feel free to reach out to the dataJAR Support team.
2) If the device is being re-provisioned (i.e. not a new device), erase all content and settings on the device. This is covered under the KB article Preparing your devices for datajar.mobi.
3) Once the device is in a wiped/reset state, or if it is brand new, proceed through the Apple Setup Assistant.
4) At the Remote Management screen, when prompted to enrol in the datajar.mobi MDM system, accept and continue.
5) If deploying a 1:1 device, you will be prompted to sign in. Please sign in using the directory credentials (e.g. Active Directory/Azure/Okta) of the user who will be assigned the device.
7) If deploying a shared device, you will need to assign a device role to it. Depending on your datajar.mobi setup, you may be prompted to set this on the device itself by opening the DEM app in the Dock. Alternatively, you can assign the device role using the Simplified Management application or raising a support ticket.
8) The device will now deploy the required software and should now be ready for use.
If you require further assistance or support, please contact our support team.